When you want as much sleeping space as possible, the Alaskan King is the bed to go for: It's even bigger than a Texas King, and as the name suggests, it's fit for even the most demanding king (or queen).
But to make the right buying decision, there are a couple of important things you have to take into consideration. And you might also be wondering where you can buy one and what are some of the best choices.
Note: check out the latest Black Friday deals and see if you can grab a saving on a Murphy Bed this year, click here to view the best deals right now.
That's why we wrote this buyer's guide: To help inform you about what you need to know about Alaskan King Beds, so you will avoid making a bad buy. The topics that will be covered are:
In other words, everything you ever needed to know about Alaskan King Beds. So let's not waste any more time and get started with our top 3 recommended mattresses.
Our top 3 recommended mattresses
You have so many different options when it comes to Alaskan King mattresses. And while some of these options are worth your money, others are not. We want to steer you in the right direction that's why we've listed our top 3 recommendations. What all of these mattresses have in common are:
Excellent price/quality
High-quality materials
Long warranty period
Trustworthy seller
---
The Big Mattress Classic is the flagship model of our top recommended store, BigmatressCo. It costs around $4000, it looks beautiful, and it does a fantastic job at pressure relief.
You can also adjust the level of firmness to your liking, and you have two different material options: Classic Foam or Classic Hybrid. It also comes with a 10-year warranty and a 100-night sleep trial.
---

Another mattress you can't go wrong with is the Alaskan King Bed Mattress from Mattress Insider. It's made from foam and latex, and it has a support layer made from pocketed steel coils, which greatly improves its durability.
Getting a good night's sleep has never been easier thanks to the comfort layer that's made from 2" of cooling gel memory foam and 2" of temperature-neutral Talalay latex. Transport is also made easy: The mattress comes in three separate pieces you can put together.
---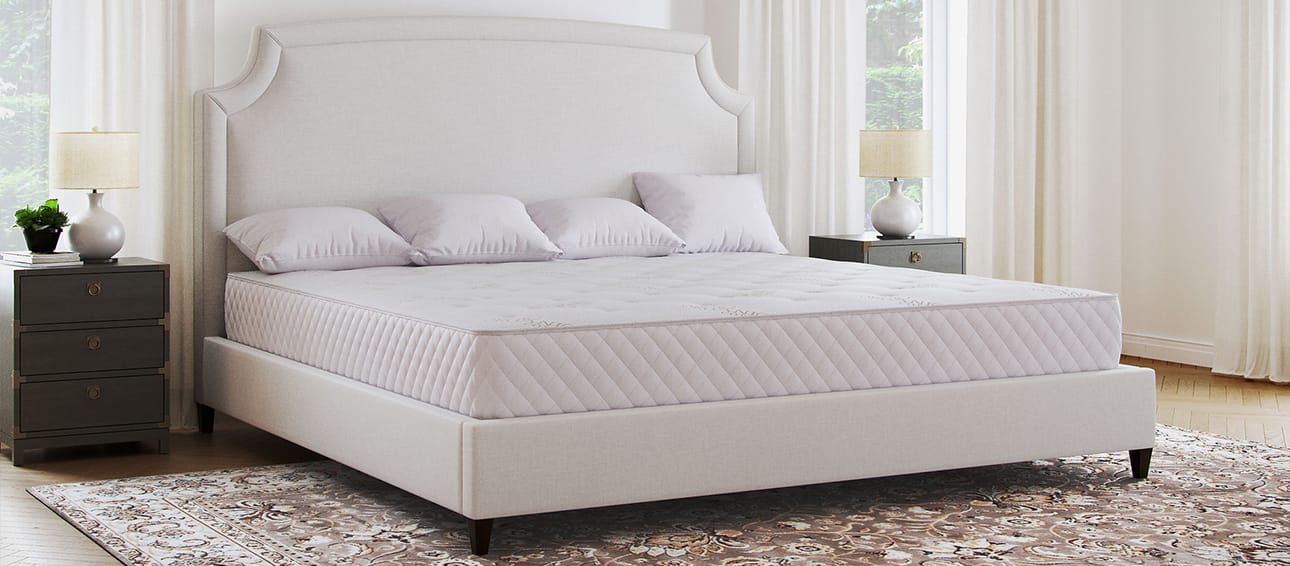 Last but not least is The Original 11" by the Alaskan King Bed Company. At $3250, it's the most affordable option on the list, but you don't have to compromise on quality: The mattress is made from durable organic cotton, and the Hypercool layer gives you supreme comfort. It also comes with a 10-year warranty.
---
What is an Alaskan King Bed?
An Alaskan King Bed is the biggest bed you can buy. The mattress size is a whopping 9 by 9 feet or 108"x108" and can fit up to 4 adults. The reason why it was named after the state of Alaska is that it's by far the biggest US state. And it was invented by people who felt the Texas King still wasn't big enough.
We'll get into the size of the Alaskan King compared to other mattress sizes later in the guide. But first, let's talk about how much they cost.
What does an Alaskan King Bed cost?
More materials are used to make an Alaskan King Bed, but the production process is also more complicated. That's why the price is a lot higher than regular beds. You should expect to pay at least $2500 for a decent mattress without the bedframe. With the bedframe included, the price can go up all the way to $10.000. What will play a big part in the price is the materials the mattress is made from.
What materials are Alaskan King Matrasses made from?
Three materials are used to make Alaskan King Mattresses: Innerspring, foam, and latex. But sometimes, a hybrid of these materials gets used. Let's get into the upsides and downsides of each of these materials, so you know which one will suit your needs the best.
Innerspring
Innerspring mattresses are (usually) the most affordable option. In most cases, they do not have a support coil system. Instead, they have a core made from a coil and an outer layer made from different materials for extra comfort.
Innerspring mattresses are sturdy, bouncy, and breathable. This makes them a great choice for heavy sleepers and people who like to sleep in different positions. However, they do sag more easily, and they don't do a good job at motion isolation; the overall shape of the mattress will change when you lay on it.
Innerspring is also a lot firmer than other materials. Some people like the extra support this provides, but others think it's less comfortable.
Foam
The biggest benefit of a foam mattress is that it's very soft and moldable: It shapes itself according to your body, which feels comfortable and relieves pressure. This makes it a great choice for people with shoulder and back issues.
The foam also does a much better job at motion isolation. But the material is not as breathable as innerspring. So if you live in a hotter climate, it might not be the best option. It's also harder to switch sleeping positions on a foam mattress.
Latex
Latex is the most expensive material, but with good reason: It's durable and can easily last 10 – 20 years. And, like foam, it's very moldable: It forms to your body shape, which encourages the proper alignment of your body and relieves pressure points.
Latex is also a lot firmer than foam. This gives you extra support and ensures motion isolation, but it feels harder than foam. An underrated benefit of latex is that's environmentally friendly; the raw materials can be harvested without having to chop down trees.
How big is an Alaskan King Bed compared to other mattresses?
As mentioned earlier, an Alaskan King Bed is 9 by 9 feet or 108"x108". Let's have a look at how other mattress sizes stack up, so you know exactly how much more space it gives you:
A king mattress is 6.3 x 6.6 feet or 76" x 80": An Alaskan King bed is 2.7 x 2.4 feet bigger. This means you will have 6.48 feet more space.
A California King Mattress is 6 x 7 feet or 72" x 84": An Alaskan King Bed is 3 x 2 feet bigger. This means you will have 6 feet more space.
A Texas King Mattress is 6.6 x 8.1 feet or 80" x 98": An Alaskan King bed is 2.4 x 1.9 feet bigger. This means you will have 4.56 feet more space.
A Wyoming King Mattress is 7 x 7 feet or 84"x84": An Alaskan King Bed is 2 x 2 feet bigger. This means you will have 4 feet more space.
What are the benefits and downsides of an Alaskan King Bed?
Alaskan King beds have many life-enhancing benefits, but there are also a couple of downsides you have to take into consideration.
The benefits
Luxury fit for a king: Alaskan Kings have a certain wow factor. Just seeing the sheer size of it amazes you. But once you get in the bed and notice all that extra space, it makes you feel like you're the king (or queen) of your castle.
Comfort on another level: You don't know what comfort is until you've experienced an Alaskan King Bed. The extra space by itself is a revelation, but the bed frame and mattress are also often handcrafted by artisans. That's why it's a lot more comfortable than a regular bed.
The most amount of space: You will have 4 feet more space than even the second biggest mattress: The Wyoming King. This makes an Alaskan King big enough to carry up to 4 adults.
The downsides
Expensive: Alaskan Kings are a big investment: They cost more than any other type of mattress. So you need to have the budget for it and feel comfortable spending the extra cash.
Takes up a lot of space: It will take up a lot of space in your bedroom, and your bedroom needs to be big enough.
Frames are not readily available: Regular mattress stores do not sell frames for Alaskan Kings. You have to go to a specialty store, which will add to the cost.
Harder to find sheets and comforters: You also won't be able to buy things like sheets and comforters from regular stores.
Hard to transport: Alaskan Kings are big and heavy, so transporting them can be a hassle and especially if you live on a high floor.
Who is an Alaskan King Bed perfect for?
An Alaskan King Bed is a great choice for anyone who wants as much sleeping space as possible. But there are a couple of groups of people who will get the most benefit from it:
People who enjoy the finer things in life
Heavy and tall people
People who move around a lot while they sleep
Couples who sleep better when they have plenty of space
Couples who sometimes let their children/pets sleep in bed with them
How to make the right buying decision
Don't make the mistake of buying the first Alaskan King Bed you lay your eyes on or basing your buying decision entirely on looks. Instead, you should research all of the following factors:
What material is the mattress made from: Innerspring, foam, and latex each have their own distinct benefits and drawbacks. Which will be the best choice depends on your personal circumstances and preferences.
What is your bedroom size: You need to have enough space in your bedroom because you don't want your room to get too cramped. How much space you need is subjective, but we feel your room should be at least 16×16 feet. This will leave you with 7×7 feet of free space.
What is your budget: You should know how much you're willing to spend and have a realistic expectation of what you'll get for that price: Alaskan Kings can cost anywhere between $2000 – $10.000. But you're not going to get a latex mattress at the lowest price point.
What is the reputation of the brand: It's worth doing some research into the brand you're thinking of buying from. If a brand has an excellent reputation, you will have a good idea of what to expect. With lesser-known brands, this is not the case.
How long is the warranty period: Alaskan King Beds are expensive. That's why paying attention to the warranty period is so important. 10 years is the most common, but some companies offer 20 years. When you buy in a sale, the warranty can be a lot shorter.
What type of damages does the warranty cover: Besides the duration, it's also important to look at what the warranty covers. Things that are normally included are sagging, uneven surfaces, and damaged handles, coils, and zippers. But exactly what is covered will depend on the company.
What are the best places to buy an Alaskan King Bed?
You now know exactly what to look for when buying an Alaskan King Bed. But where can you buy one? Alaskan Kings are unavailable in regular mattress stores; you can only get them from specialty stores.
There's no shortage of great options, but to make your life easier, we've listed the four places with the best reputation.
BigmatressCo: Our top recommendation is BigmatressCo. Why? Because the company has won plenty of awards from reputable institutions, including "The Best Overall Oversized Mattress" by the Sleep Foundation. All of their mattresses also come with a 100-night trial period and a 10-year warranty.
MattressInsider: MatrassInsider has been one of the best specialty stores for big mattresses since 2008. What's great about the company is that they can make all types of mattresses according to your specific needs, they deliver to all states, and they have a 121-night guarantee.
Adultbunkbeds are another great option because they offer plenty of customization options: You can choose different headboard options, colors, textures, and designs so that the mattress will fit your taste and interior. The weight capacity of their beds is a whopping 2000lb, and they come with a 60-day risk-free trial.
AlaskanKingBeds: The Alaskan King Bed Company has built a reputation for high-quality products and excellent service. While they only have three different mattresses, the quality is superb, delivery is free, and each purchase comes with a 10-year guarantee.