Getting a Murphy Bed is a great way to save as much bedroom space as possible. But it does not mean you have to settle for a small bed: A king-size Murphy Bed will give you all the comfort and luxury you will ever need.
But what are some of the best options available? We made a list of our top 5 choices, which we'll get into shortly. But first, let's discuss the dimensions of a king-sized Murphy Bed, so you can decide whether it's a good fit for your room.
Note: our most recommended company for Murphy Beds is Expansion Furniture, you can check out the fantastic range of foldable storage solutions right here.
What are the dimensions of a king size Murphy Bed?
A king-size Murphy Bed is the largest size Murphy Bed that's available. A vertical Murphy Bed will have the following dimension: 89 to 92 inches in length, 84 to 86 inches in width, and 18 to 21 inches in depth. A horizontal Murphy Bed will be 68 to 70 inches in length, 85 to 90 inches in width, and 16 to 20 inches in depth.
Our top 5 choices
Now that you know the dimensions let's go straight into our top 5 choices.
Our #1 pick is the Ampera made by Table World. Why? Because it effortlessly combines style with functionality. Not only is it beautiful to look at, but the gas pressure spring mechanism also works like a charm. A press of the button (of the wired or wireless controller) folds it. And it has a mechanism that prevents it from self-opening.
Mounting it will take some effort (professional assembly is recommended), but once it's installed, the effort is more than worth it. And because the bed is made from Laminated Chipboard, it's not as heavy as you think.
It does come with a hefty price tag: At around $6000 dollars it's one of the most expensive options. But you know what they say: Quality isn't expensive, it's priceless. The AMPERA is often out of stock due to its popularity. So if you love it, we recommend not waiting too long to make your order.
---
Coming in at a close second place is the Invento Bed by MaximaHouse. MaximalHouse has had a long reputation for making high-quality furniture. And the Invento Bed is perfect proof of that: It's made from durable solid wood and it has a weight capacity of 600lb.
The gas pressure mechanism guarantees folding the bed won't be a hassle. And you have four different colors to choose from: Country, White, White/Gray, and Gray/White Monaco. This means finding one that fits your bedroom interior won't be hard.
Want to save storage space? You can also opt for the Invento Storage Bed. This version comes with 2 built-in storage cabinets but will cost you about $2000 more.
The standard version of the Invento is $2000 cheaper than the Ampera, and it comes with a comfortable mattress. That's why it will probably be a better choice for many people.
---
Do you love the unique grain pattern of oak? Then the Nova Vertical Murphy (Sonoma Oak) is right up your alley. Besides its unique look, oak is also a very durable material, making this $2626 Murphy Bed a smart investment.
You will need to mount it yourself, but this is one of the easier Murphy Beds to install. Plus, a complete assembly kit comes included. Once folded, it looks like a regular closet, and it has a handy mechanism that prevents it from self-opening.
What's also great is that a comfortable Polyurethane foam mattress comes included. And orders usually arrive within 3 – 5 days, which is much faster than most companies.
---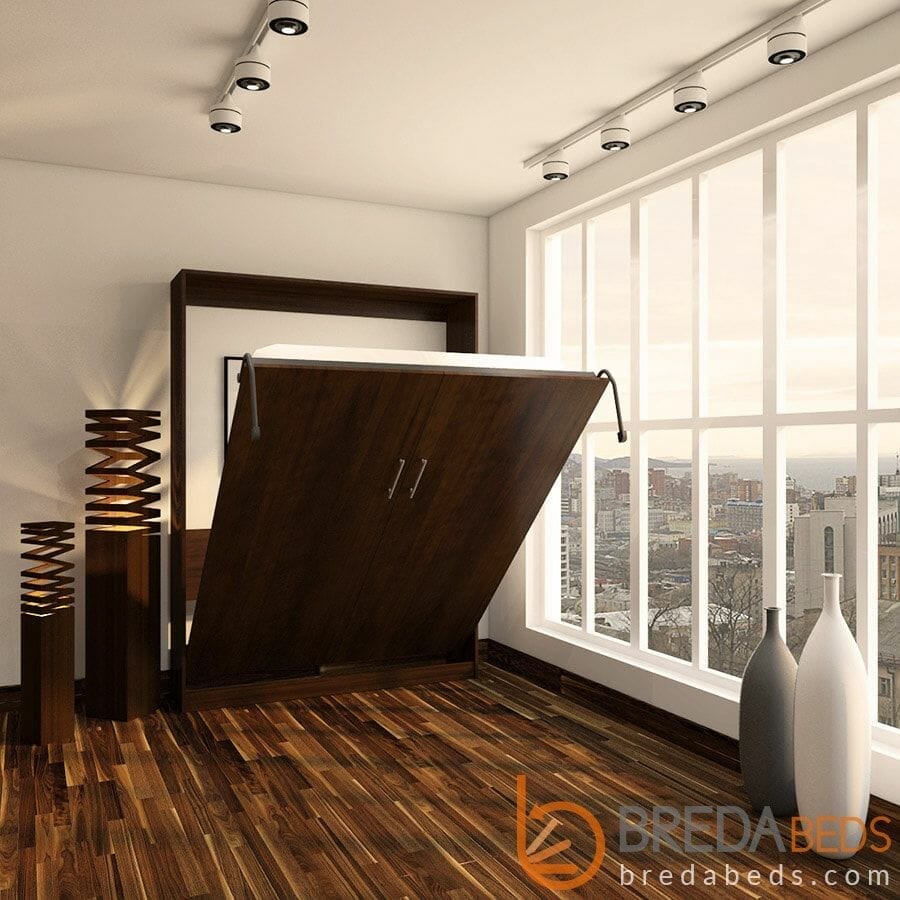 At just under $1700, the Urban is the most affordable king-size Murphy bed on the list. But there's really nothing that gives away its low price: It's well-built and solid, as it's made in the US from industrial-grade melamine.
The bed looks great in both its folded and unfolded state. And you have plenty of customization options to make it fit your interior, including 13 colors, 3 hardware finishes, 4 baseboard notches, and LED Lights.
To ensure you get the exact color you want, you can order a color sample before you make your purchase. And all parts and hardware come included, so you don't need any equipment. After the installation, you're covered by a 10-year warranty on all mechanical parts, including the spring mechanism.

The only real downside of the Urban is the shipping time: It can take up to 7 weeks to arrive. This may be a dealbreaker for some, but if you have the time and patience, the low price for the quality is well worth the wait. 
---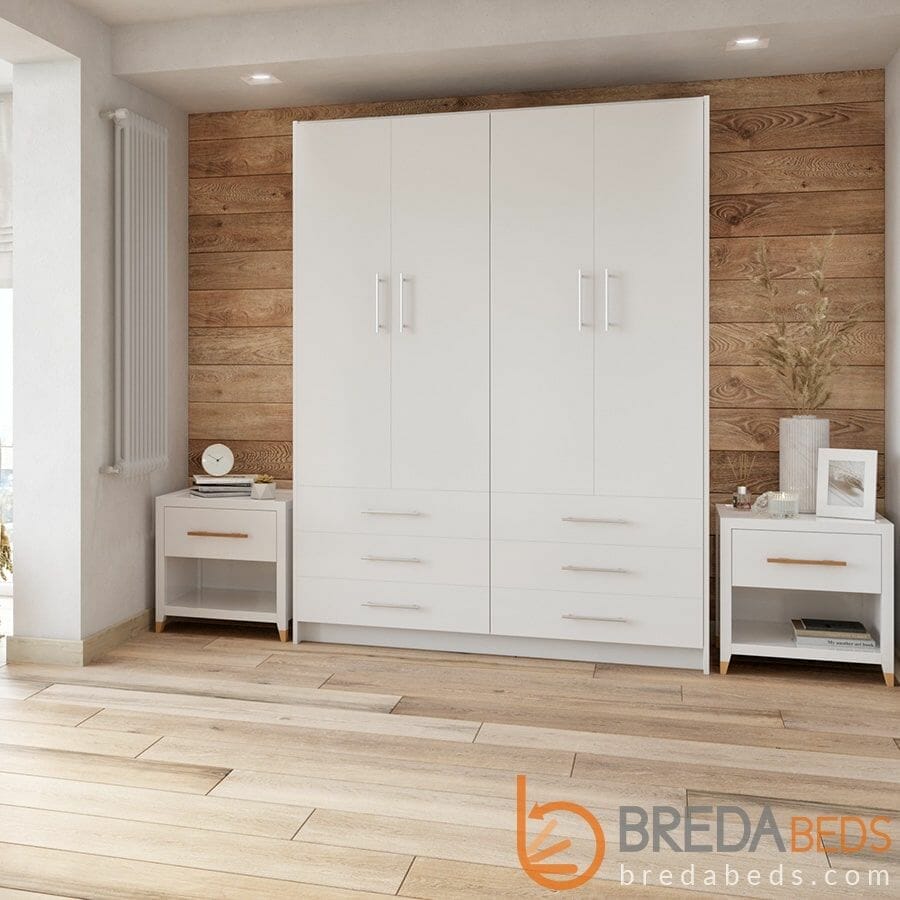 We close off the list with the Penthouse. BredaBeds (the company that also sells the Urban) calls this model their "most elite bed." And it's not hard to see why: It has a classy and sleek design, which will look great in most modern homes.
The bed is made mostly from industrial-grade melamine. But the face panels and doors are made using 3/4″ MDF core faced with 3D Laminate. Just like the Urban, the Penthouse offers plenty of customization options.
But another reason to opt for the Penthouse are the two included shelves with drawers: They will save you quite a bit of space. And they're perfect for placing your phone, alarm clock, book, or any other item you want at your disposal.
The Penthouse is only $100 more expensive than the Urban. So whichever of these two you choose will depend largely on personal preference.