If you're dealing with pesky back pain, there's a good chance you've experienced some rough sleep as a result. Studies show that chronic lower back pain is associated with sleep disorders, and the worse the daytime symptoms, the more they impact your sleep. One potential solution to this problem is a mattress topper.
Here are 5 of the best mattress toppers for back pain:
ViscoSoft Memory Foam Mattress Topper
Saatva Mattress Topper
PlushBeds Natural Latex Topper
Temper-Pedic Tempur-Adapt Topper
Layla Memory Foam Topper
Throughout this article, I'll dive into why I ranked each mattress topper where it is and explain which ones are better for which situations.
Note: Prices listed below are the base prices for queen-size mattresses, but you can find deals throughout the year in most cases.
5 Best Mattress Toppers for Back Pain
Best for side sleepers
| | |
| --- | --- |
| Materials | Memory foam base with down cover |
| Price | $330 |
| Firmness | 1/5 |
| Thickness | 3 and 4 inches |
| Returns and Warranty | 90-day return policy, 5-year warranty |
According to research on the subject, side sleeping is the most popular sleeping position out there. The problem is that it puts a lot of pressure on fewer places and can put your spine in all kinds of awkward positions. That's where memory foam comes in handy.
As it adapts to your unique shape, memory foam is able to better spread pressure across your body, rather than have it focused on a few smaller points like the shoulders and hips.
And while there are other memory foam mattress toppers out there, this is the one I like the most for side sleepers because of the down upper layer. It gives an extra bit of cushion, allowing side sleepers to really take a load off.
The ViscoSoft mattress topper comes with a washable cover and is a great choice for those with mattresses that may have a little too much bounce.
---
Best for back sleepers
| | |
| --- | --- |
| Materials | 3 options including latex, graphite/memory foam combo, and memory foam |
| Price | Latex $445, graphite $345, foam $295 |
| Firmness | 2-3/5, depending on material choice |
| Thickness | 3 Inches |
| Returns and Warranty | 180-day return policy, 1-year warranty |
If you're not in the majority of side sleepers, odds are you like sleeping on your back. For that, you might want to consider something a little firmer.
But hold up! You don't want to go too firm. For back pain, it's usually best to pick something in the middle of the firmness scale, and the Saatva mattress topper is a great option for that.
Of the three materials listed above, foam is the budget choice, latex is the more durable choice, and the graphite-foam topper is ideal for someone looking for cooling benefits.
Each option also comes with a cotton cover for sweat wicking which needs to be spot cleaned, so it's recommended that you top your topper with extra sheets.
---
Best combination of durability and cooling
| | |
| --- | --- |
| Materials | 100% natural Talalay latex |
| Price | $445 (cotton cover will run you an extra $112) |
| Firmness | From 2/5 to 5/5 |
| Thickness | 2-3 inches |
| Returns and Warranty | No returns, 5-year warranty |
Memory foam is a great option for pressure relief, but it comes with a dilemma. All of that rolling around in bed can end up tearing the material apart over time.
Some versions of the memory foam formula can also be hot to sleep in, and that's where latex comes in.
Made to be dense, it usually takes longer for latex to give way to that same wear and tear. It can also be just as hot as or hotter than memory foam because of how well it insulates.
PlushBeds seems to have cracked the formula for high durability and coolness, creating a latex mattress topper with small holes and space in the material to allow more airflow.
Their mattresses are also customizable, so you can pick from five levels of firmness to match your body type.
And if being good to the environment is something you're worried about they've got you covered there, too. Their Talalay latex is 100% natural. In fact, it's so natural that they mention possible signs of nature in the topper.
But don't worry, that won't hurt performance.
---
Best for durable memory foam
| | |
| --- | --- |
| Materials | Tempur memory foam |
| Price | $419 |
| Firmness | 3/5 |
| Thickness | 3 inches |
| Returns and Warranty | No returns, 10-year warranty |
The Tempur-Pedic brand is known for being pioneers in the memory foam game, so it's no surprise that their mattress topper is reliable.
For anyone looking for the soft, pressure-relieving benefits of memory foam while also wanting to hold on to their product for a long time, Tempur-Pedic might just have an edge.
These toppers are especially great back pain aids for anyone looking for something in the middle of the road as far as firmness goes. They also come with a 10-year warranty that backs their claims of durability.
Among the other benefits are a removable cover, making washing is a simple process. It's also dust-mite and allergen-resistant for those who are more sensitive to their surroundings.
---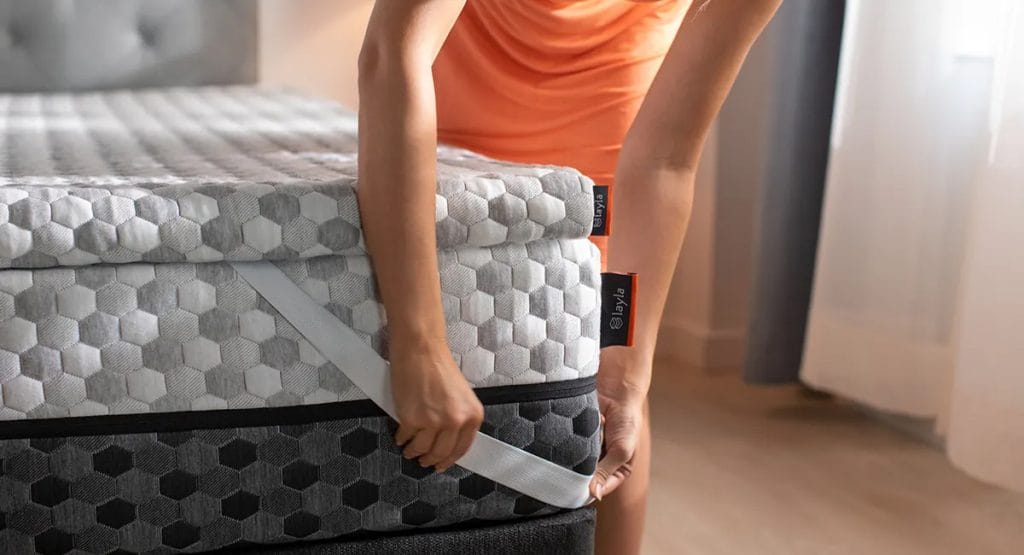 Best for cooling
| | |
| --- | --- |
| Materials | Copper gel-infused memory foam |
| Price | $349 |
| Firmness | 2/5 |
| Thickness | 2 inches |
| Returns and Warranty | 120-day money-back guarantee, 5-year warranty |
The Layla brand is known for their copper gel-infused memory foam. And while sleeping on copper may sound a little 'out there,' it's not as intense as it sounds.
Since heat passes through it quickly, copper is becoming a popular material for bedding companies everywhere looking for an edge in the cooling department.
On top of the actual memory foam is a polyester cover, another potentially cooling and sweat-wicking material.
All of this is to say that the Layla topper might be a good choice for those with back pain who also run hot at night.
---
Final Thoughts
Mattresses that are too soft or too firm can make back pain worse throughout the night. And for many, mattress toppers are a simple solution to that problem.
Whether you're a side-sleeper, a back-sleeper, or if you're just looking for something a little cooler, there's a mattress topper for you.