Are you thinking about getting a Murphy Bed with a mounted TV? You're not alone: With this setup, you won't need a TV stand, which saves you precious bedroom space. And the ability to turn your bed into an entertainment center has a certain cool factor to it.
To get a Murphy Bed with a TV, you have two options: You can either mount a TV on your Murphy Bed, or you can buy a custom-built one. In this article, we'll discuss how you can mount a TV on a Murphy Bed. And we'll give you a list of the best places to buy a custom-built Murphy Bed with a TV. So let's get into it!
Note: our most recommended company for Murphy Beds is Expansion Furniture, you can check out the fantastic range of foldable storage solutions right here.
Can you mount a TV on your Murphy Bed?
It's hard to give a definitive answer to this question because it all depends. Some Murphy Beds will have no problem holding the weight. But others will not be built for it. That's why the only way to know for sure is to contact the manufacturer/seller. So don't mount a TV on your Murphy Bed if you're not sure it can hold the weight.
How to mount a TV on your Murphy Bed
Did you get a confirmation that your Murphy Bed can hold the weight? Then look up the VESA mount compatibility of your TV. This will help you determine the bolt dimensions. You can find VESA mount bolt sizes here. The screw size will tell you what size hole to drill. You can then attach the mounting bracket to the wall and hang up your tv.
Mounting a white screen
Here's something you might not have considered: Instead of a TV, you also have the option to mount a white screen on your Murphy Bed. You can then use a home theater projector to watch your favorite movies and shows. The benefit of this setup? A white screen weighs a lot less than a TV. That's why it will put less weight on the bed and make it easier to mount. In addition, a white screen is also a lot easier to take off when it's not in use.
Where to buy a Murphy Bed with TV
If you're looking to buy a custom-built Murphy with a TV, then you have a couple of good options. These are the places we personally recommend.
Best Murphy Bed with TV
| Image | Product | Price |
| --- | --- | --- |
| | | |
| | | |
The Compatto TV takes style to the next level with its 180 degrees revolving bookshelf and hidden Murphy Bed. It has enough space for a 75" TV, more than anyone should need for their bedroom. And the bed is close to being queen-size with the following dimensions:
Height: 86.7″
Depth including shelves and closed cupboard: 23.25″
Length with bed open: 96.85″
Width: 71.5″
What's also great is that it's available in 8 different colors. You can choose two different mattresses: Memory foam or regular foam. You have several customization options, and it comes with a 5-year warranty on mechanical parts. The only downside is that it's a DIY installation and will take about 16 weeks to deliver.
---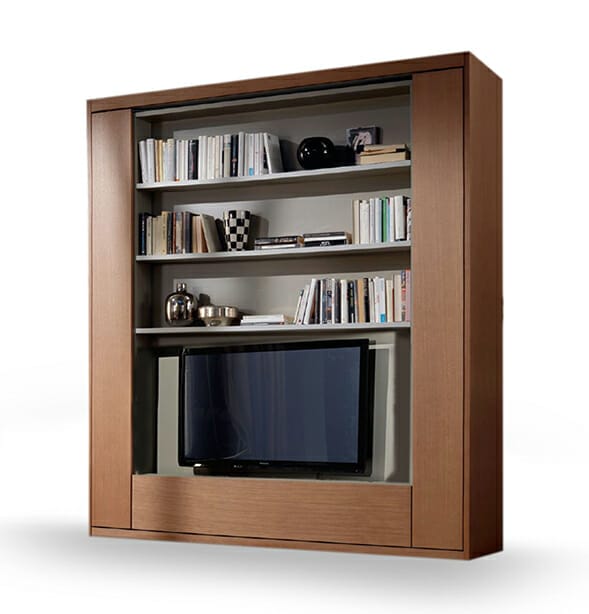 If money is not a factor, you'll love The Amore. This Italian-made piece of furniture's minimalistic design looks breathtaking and warrants its high price point: You can get it for just under $10.000. You can smoothly transform the TV and bookshelves into a queen-sized Murphy Bed by rotating it 180 degrees. And the measurements of the wall bed are:
Height: 93.23″
Width: 78.75 ″
Depth: 23.86″
Cabinet + opened bed length: 88.19″
The standard version of the Amore can hold a TV of up to 32 inches. But you can also have it modified to hold a TV of up to 58 inches. And there are several custom panels and finishes to choose from. The Amore will, without a doubt, look best in a room with a hardwood floor. But it can also work on a carpeted floor. Unfortunately, delivery can take a while: 12 – 16 weeks. But the long wait is well worth it!
---
Home Office Solutions with Horizontal Murphy Bed & Custom Desk System
Closet Works is a company that used to operate only in Chicago. But thanks to the quality of their work, they now have a nationwide presence. And they sell a Murphy Bed that serves as both a home office and entertainment center. You can use the large-screen TV no matter if the Murphy Bed is folded or unfolded: In the closed position, it will be centered in the middle of the media center. In the open position, the TV will be on the underside of the bed. This queen size bed also offers plenty of space for you or your guests.
---
The Entertainment Center Murphy Bed
The last option on the list is The Entertainment Center by WWBeds. It's available in three different options.
The Vertical Entertainment Center: Costs between $4740 – $5790 and has plenty of shelves for books or other items.
The Horizontal Entertainment Center: Costs between $5390 – $5540 and has several bookcases.
The Manhatten Entertainment Center: Costing between $6790 – $ 7070 and it can also serve as a work desk or bookcase.
Each option also has different styles, so you can easily find something that perfectly suits your interior.
Conclusion
You have two options when you want to get a Murphy Bed with a TV: You can either mount a TV on your bed by using a VESA mount system. Just make sure your Murphy Bed is built to hold the weight. The second option is to buy a custom-built Murphy Bed with TV from one of the companies listed above. What you have to take into consideration is that the delivery will take a minimum of 12 weeks.