Do you want a bed and couch in the same room, but do you have little space? It's probably not a good idea to cram your room with both pieces of furniture because this will leave you with little free space.
A much better solution is to get a Murphy Bed with a couch. This handy piece of furniture will save you a ton of space because you can turn your sofa into a bed whenever you want. But what are some of the best Murphy beds/couches?
Note: check out the latest Black Friday deals and see if you can grab a saving on a Murphy Bed this year, click here to view the best deals right now.
We made a list of our top picks. Note that it's not in chronological order. The best choice will largely depend on your budget and personal preferences. But there are a couple of other things you should look for:
What are the measurements: Does the bed fit in your room? And will you have enough free space left when the bed is unfolded?
Is a mattress included: Pay attention to whether a mattress is included. If that's not the case, it will cost you extra, but it will give you the freedom to choose your own.
What is the material: Solid wood, plywood, particle, and laminate are the most common options. Each of these materials has benefits and downsides.
What is the opening mechanism: A piston or spring system makes lifting the bed easier. A manual system requires more strength.
Does it fit your interior: Make sure the bed/couch fits the interior of your room
What is the warranty: A more extended warranty provides more security.
The 4 Best Murphy Beds With A Couch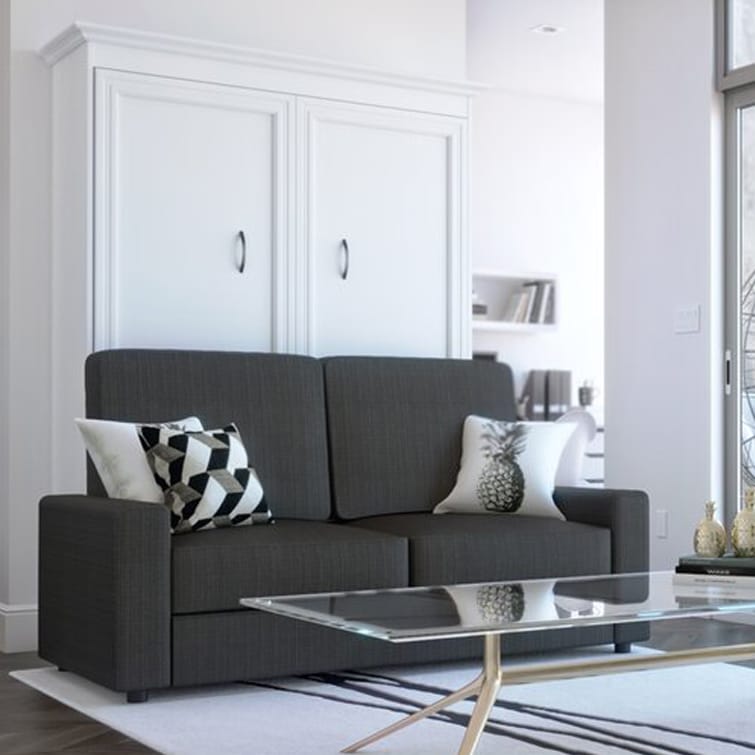 The first bed/couch on our list is the Thane Murphy bed made by Red Barrel Studio. Red Barrel Studio is owned by Wayfair, an online store that sells furniture to a worldwide audience.
We expected a company with such an excellent reputation to deliver a high-quality product. And our suspicions were confirmed: The Thane Murphy Bed not only looks fantastic, but it's also highly functional: The dual piston system makes opening and closing the bed a breeze. And you can easily pull it down with the use of a handle.
What makes it unique, however, is its supreme comfort: Thanks to the euro slat mattress system, having a good night's sleep is now easier than ever. Not many beds will be able to compete.
Considering that, it's surprising that the Thane Murphy bed (thanks to a 49% price reduction) is also the most affordable option on the list.
There are only two downsides: You don't have many color and size options: Just two. And you'll need to buy a mattress that's heavy enough to hold down the bed frame.
PROS
Great build quality
Easy to clean
Made in Canada
Pistons are solid
More affordable
1000 lb weight capacity
10-year warranty
CONS
Only available in two sizes and colors
It needs a heavier mattress to stay down
Two people are required for the assembly
Shipping will take 4 – 5 weeks
---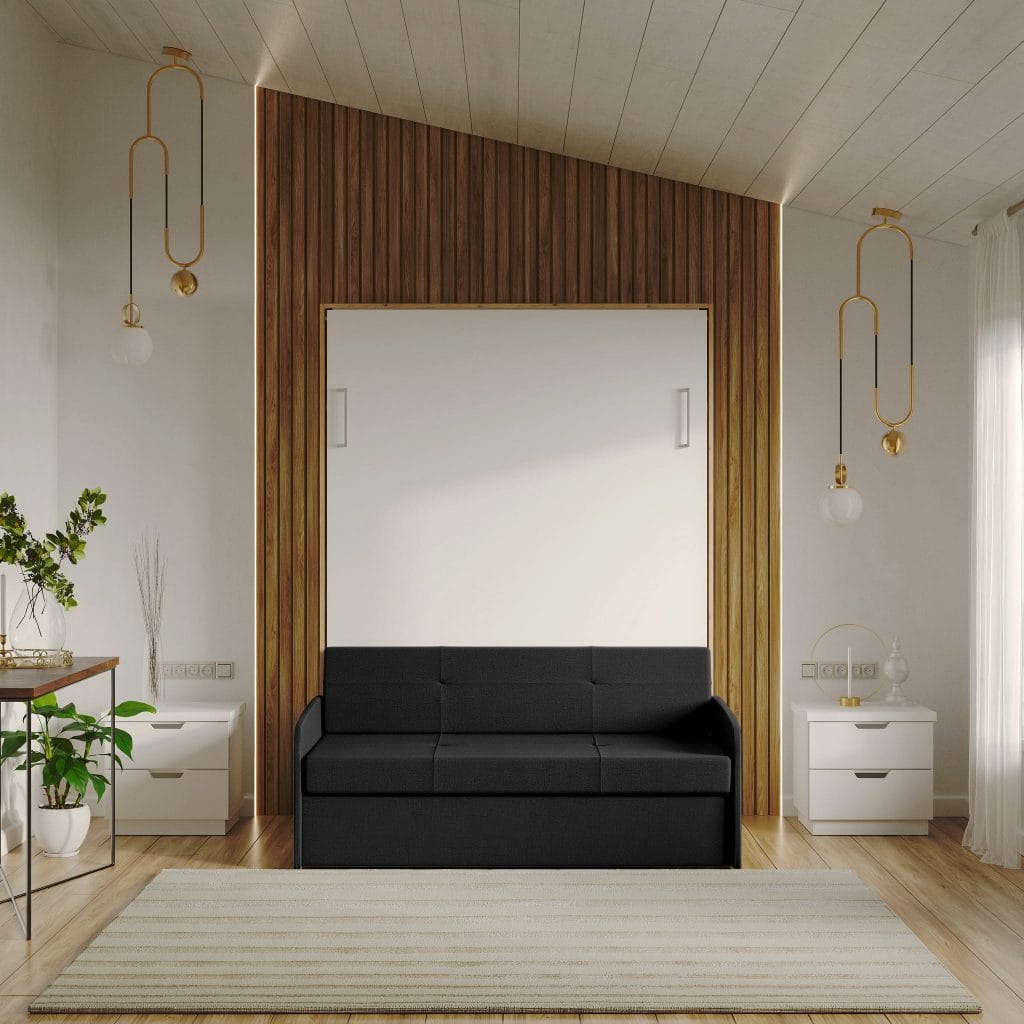 The Milano is probably the best-looking bed/sofa on the list. It has a classy, minimalistic aesthetic that will look fantastic in a room with a modern interior. And the build quality is good: The bed is made from premium laminated particle boards and aluminum.
Lifting the bed is effortless thanks to the hydraulic system makes. And you can buy it with a mattress made of memory foam or spring. The Milano does come at a premium price: $3750 – $4250. But it's more than worth it for what you're getting.
PROS
Great build quality
Classy minimalistic aesthetic
Fast delivery
Easily folded
Optional mattress
Available in many colors
Assembly
Lifetime warranty on the Hydraulic Mechanism
CONS
The most expensive option
Only available in 2 sizes
---
#3 on the list is the US-made InLine Murphy Bed And Inline Sofa. It's made from either slab 3D laminate or textured melamine. And it's very convenient: You can simply remove the four cushions and fold the bed using the handy spring mechanism. And no matter if you're using the bed or couch, it screams class.

Another great thing about this bed/sofa is its versatility: You can choose from 16 different bed colors, 8 sofa colors, and 3 hardware finishes. So, you will find a color palette that looks great, no matter your interior.
You can also configure the bed with other InLine products like a coffee table or bed chairs. Want to take your style to the next level? Get the optional LED Light Kit to make it glow in the dark.

It may not be the cheapest option, but the versatility and build quality warrant the higher price. And the fact that it gets an average of 4.7/5 stars out of 121 reviews doesn't surprise us.
PROS
Great build quality
The most affordable
Looks very classy
Made in the US
The option to have the assembly done for you
Accommodates any standard U.S mattress size
Compatible with the InLine coffee table and murphy bed chair
Available in 5 sizes
Available in 16-bed colors, 8 sofa colors, and 3 hardware finishes
Optional LED Light Kit
10-year warranty
CONS
The installation is not the easiest
Two people are needed for the assembly
---
Last but not least is a Murphy Bed from MurphyBedNYC: The aptly named "Murphy Bed with Couch and Shelves." Thanks to the four shelves on each side of the bed, you will save quite a bit of storage space. In addition, its modern and sleek design makes it an eye-catcher. Folding up the bed is an easy process. And the laminate particle board is of high quality.
The only two downsides are the longer shipping time and limited color choice.
PROS
Good price/quality
Modern and sleek look
Folding up the bed is easy
Handmade
Big space saver
CONS
Only two color options
More expensive
Long shipping time