Covid has been a blessing to many people that want more freedom in their work: It's now often possible to work (partly) from home. And depending on your job and the commute, this could make your life a whole lot easier.
But to use the opportunity (and maintain your productivity), you need a good workspace. While a dedicated desk is ideal, you might not have enough space for it. And maybe you only work from home from time to time.
In these cases, a Murphy Bed with a desk is a perfect solution: It will save you a lot of space because you can fold it during nighttime, and during the daytime, it will serve as a fully functional workspace.
But which Murphy Beds with desks are worth your money? Your options are a bit limited compared to regular Murphy Beds, but several excellent choices exist. We'll give you our top 3 picks, but to ensure you make the right choice, here are some essential things to look for.
Note: check out the latest Black Friday deals and see if you can grab a saving on a Murphy Bed this year, click here to view the best deals right now.
Your Room Layout & Bed Size
While paying close attention to your room layout and bed size might seem obvious, many forget to measure their room. Or calculate how much free space they will have left. Don't be that person!
Always measure the dimensions of your room, so you know if the bed will fit. And how much free space will you have left when the bed is unfolded? The last thing you want is your room to be too cramped!
What materials is the bed made of?
The bed's materials will significantly influence the price, weight, durability, and look of the bed.
For example, hardwood is durable and looks beautiful, but it's heavier and more expensive. Particle board is cheaper and lighter than hardwood, but it may not have the same durability and weight capacity. Laminate is an affordable and versatile material, but to some, it's not as stylish as hardwood.
The best material will depend on your budget, style preferences, and intended use.
Opening mechanism
There are three opening mechanisms: Piston, spring, and manual.
A spring opening mechanism makes lifting the bed easy because you can adjust the resistance. Springs also have high durability and good shock-absorbing ability. And, in most cases, you can stop it from retracting.
A piston uses gas or air pressure to help you with lifting the bed. A locking mechanism is usually included, so you don't have to do anything to hold it down. But you may have to replace it after some years because it's not as durable as springs.
A benefit of a manual opening mechanism is that it's easy to install and use. But it will be heavier to lift and pull down the bed. Sometimes, you may even need two people to fold the bed.
Does a mattress come included?
Many people do not realize that a mattress does not always come included with a Murphy bed. So to avoid disappointment, check for this and factor in the cost of having to buy a mattress.
If a mattress is not included, you also need to ensure the mattress you buy will fit the bed; usually, a specific thickness and size are required.
Now that you know the most important things to look for, let's get into the list.
The 3 Best Murphy Beds With Desk
Our #1 pick is the Avalon Murphy Bed by Xtraroom. Xtraroom has no shortage of unique, high-quality furniture, but the Avalon is one of their standout products.
It's easy to see why: The beautiful, smooth white color gives it a very classy look. If you're an Apple owner, it will be a fantastic choice because a white white-on-white color scheme always looks fantastic. But it will look great in most rooms with a modern interior.
There is, of course, one slight downside to the white color: Stains will be more easily noticeable. But if you clean regularly, this shouldn't be a problem.

I'm sure you'll agree the build quality is more important than looks. Luckily, the Avalon also delivers on this front: It's made from solid wood, a material known for strength and durability. In addition, lifting the bed is painless thanks to four hydraulic piston mechanisms.
Considering all these things, we feel the Avalon has an excellent price/quality ratio. And most users agree with us: It gets an average of 4.7 stars out of 47 reviews on Wayfair.
Pros
Looks beautiful
An affordable option
Made from solid wood
Great build quality/durability
Cons
Only available in one color
Can stain more easily
Long delivery time
Just a 1-year warranty
---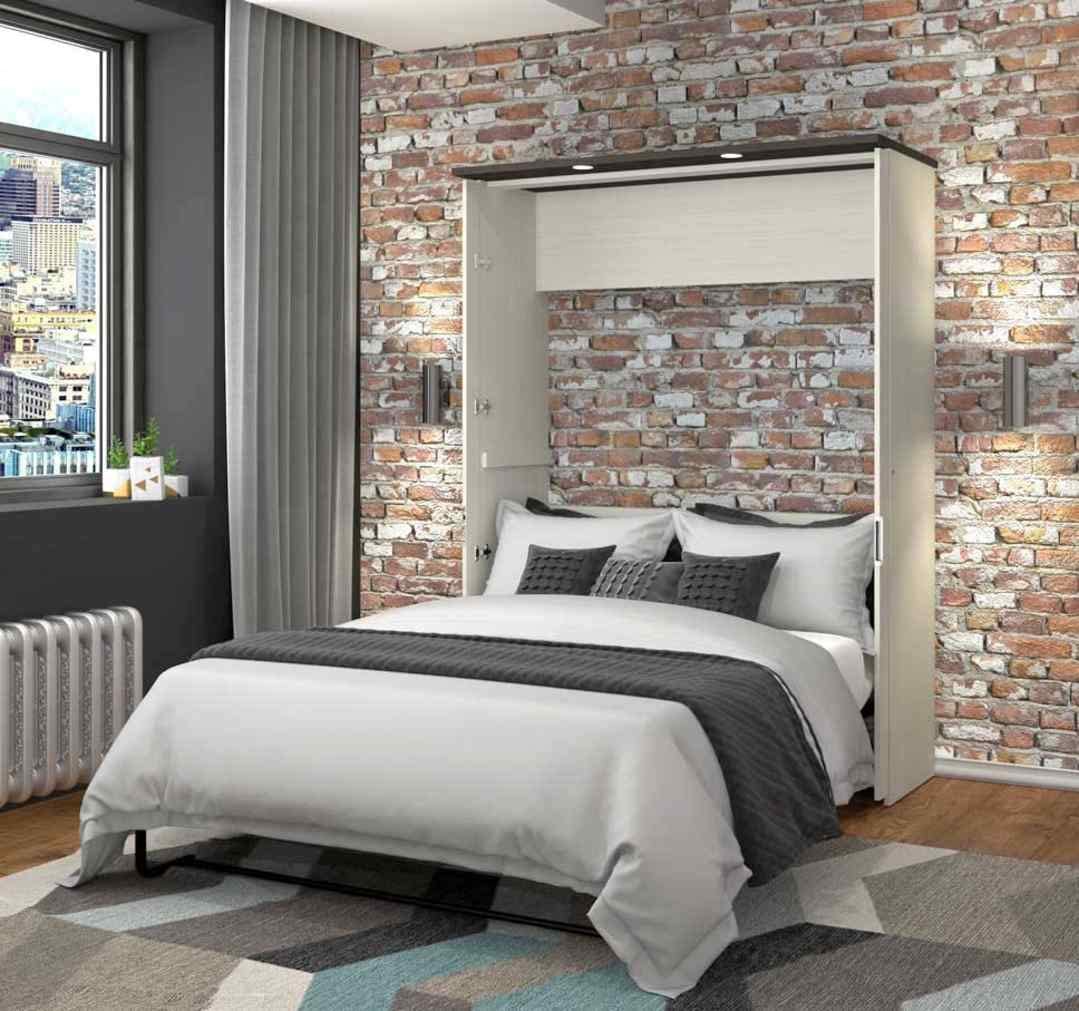 Are you looking for the most affordable option? Then the Full Wall Bed with Desk by Bestar would be our top recommendation.
It's the only one on our list that costs less than $2000. It's made from high-quality laminated particle boards, wood, and metal. It's very sturdy, and the weight capacity is a whopping 1000 lbs.
Folding up the bed is (almost) effortless, but you will need three people for the installation, which is quite unusual.
We also think the design looks good, but you could argue that it's bit plain in its folded state compared to the Avalon. Considering it costs more than $1000 less, that shouldn't be that big of an issue. And you know what they say: There's no arguing about taste.
What's also a nice touch are the included (CSA-approved) LED lights, which you can use to light the bed whenever you want. Typically, only high-priced beds have this feature, so this was a lovely surprise.
You'll get the best price by buying the Bestar Full Wall Bed with Desk on Amazon. And the delivery usually is relatively fast (6 – 10 days).
Pros
Very affordable
Great price/quality
Fast delivery
Accommodates most standard mattress sizes
Made in the US
Included LED-lights
Cons
Plain design
Only available in one color: White chocolate
Three people are needed for the assembly
---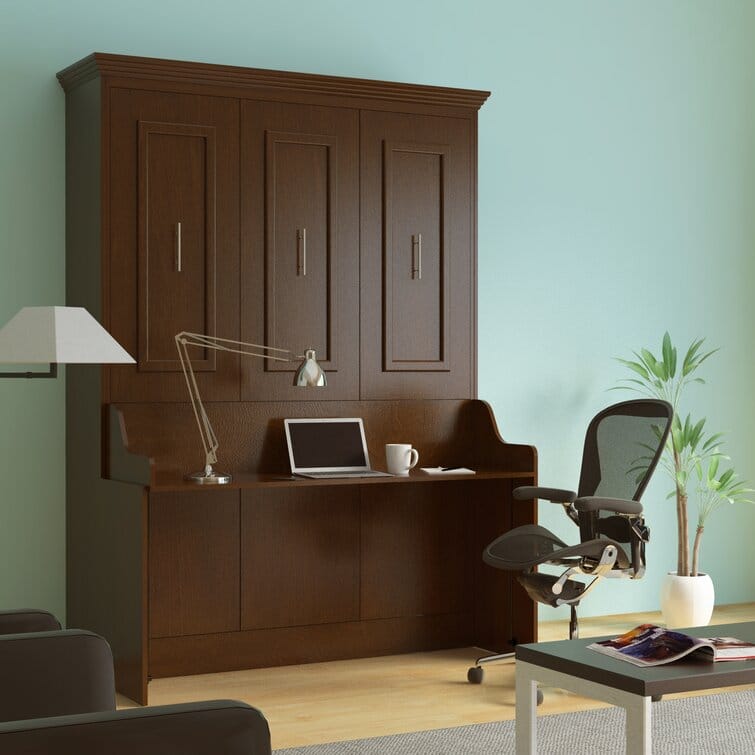 The last Murphy Bed/Desk on our list, The Britton Storage Murphy Bed, is also made by Xtraroom. The build quality is similar to the Avalon as it's made from solid and manufactured wood.
But it looks very different: Unlike the Avalon, it has a brown color (Walnut) and a traditional design. This makes the Britton Storage a great choice if you have an old-school interior.
What's also great is that it comes in two different options.
The one with cabinets is perfect if you're trying to save as much space as possible. But it will cost you $2000 more. If you're not comfortable spending that type of cash, go with the standard version.
Pros
Looks beautiful
An affordable option
Made from solid wood
Excellent build quality/durability
Two different options
Cons
Only available in one color: Walnut
Long delivery time
Just a 1-year warranty
Two people are needed for the assembly