Are you thinking about buying a Murphy Bed? Great choice! Murphy Beds are not only a fantastic way to save space, but they're also very stylish. That's why they've seen such a sharp increase in popularity in recent years. 
Note: check out the latest Black Friday deals and see if you can grab a saving on a Murphy Bed this year, click here to view the best deals right now.
But this increase in popularity has also come with a downside: There are now a huge amount of Murphy Beds available, which makes it hard to choose one. So to help you make the right decision, we've written a buying guide with the most important things to look for when buying a Murphy Bed. And we'll give you a list of our top 8 picks.
There's something on this list, no matter what you're looking for, so keep on reading!
What is a Murphy Bed?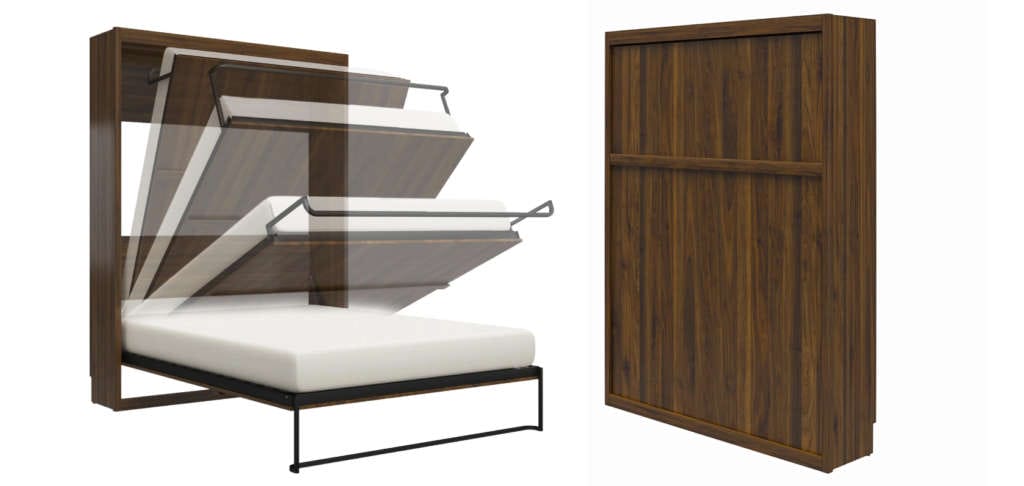 A Murphy Bed is a type of bed you can fold when it's not in use to save space. This makes it a fantastic choice when you live in a studio apartment or mobile home or when you have limited space in your bedroom. Plenty of people, however, buy a Murphy Bed because it's more stylish than a regular bed.
The name "Murphy Bed" came from the inventor William Lawrence Murphy. William was an opera singer back in the 1900s who lived in a small one-room apartment in San Fransisco. At that time, it was frowned upon for a woman to enter a man's bedroom. So, he invented the bed to turn his "bedroom" into a parlor when it was needed. This allowed him to entertain his guests without any social backlash.
What are the different types of Murphy beds?
There are a few types of Murphy Beds available. Which one is the best choice will depend on factors like your budget, your style preferences, and where you're going to place it.
The Standard Murphy Bed
The Standard Murphy bed is the most common type of Murphy Bed. It's mounted on a wall and can be pulled down to the ground. It folds horizontally, and after it's folded, it will look like a piece of furniture.
A mattress does not come included, which has an upside and downside: You have the freedom to choose your own mattress, but this also means it will generally be more expensive. You also need to make sure the mattress is compatible with the bed.
Murphy Bed with Foldable Mattress
Unlike the Standard Murphy bed, some Murphy Beds come included with a foldable mattress. This mattress is often made out of memory foam or polyfoam, but sometimes other materials like spring and latex are used.

You need to make sure you're comfortable sleeping on the mattress that comes included with the bed. But since you don't have to buy a mattress, this option is generally less expensive. Another benefit is that this type often fits into more compact spaces.
Horizontal vs. Vertical Murphy Beds
You can choose from a horizontal or vertical Murphy Bed. Which will be the best choice will depend on several factors, like the layout of your room, where your furniture is located, and the height of your ceiling.
A Vertical Murphy Bed is generally more affordable, but if you have a low ceiling, it might not fit in your room. Depending on the layout of your room, a horizontal Murphy Bed can save more space.
What materials are used?
Murphy Beds are mostly made from different types of woods and laminates. These are the most common materials that are used:
Solid wood: Solid wood has many benefits: It's hard, durable, and looks fantastic. But you pay a price for that, and it can deform a little bit over f time.
The different types of solid woods include oak, pine, redwood, maple, and cedar
Plywood: Plywood often gets used because it's lightweight, strong, versatile, and has a nice, smooth look. It's more expensive than other materials, and sometimes knots can affect the foundation.
Particle Board: Particle Board is made from compressed wood. It's a very cost-effective and light material, but it's not as versatile and durable as the other materials.
Different types of Laminate: Three types of laminate are used: Thermofoil Laminate, Melamine-Smooth Laminate, and Melamine Textured Laminate. Laminates are easier to clean and available in many different colors and styles. But some people think the material is not as stylish as solid wood.
How to make the best choice?
There are many factors you need to take into consideration before you make a buying decision:
Space & size: Murphy Beds come in all shapes and sizes. It's important to know how much space the bed will take up in both its folded and unfolded state so that it won't take up too much space.
Materials: The materials the bed is made out of will have a big effect on the durability, weight, and look of the bed.
Design: There are many different types of designs available: Traditional, modern, vintage, contemporary, etc. Obviously, what type of design you like is highly personal, but the best choice will also depend on your interior.
Weight capacity: Make sure the weight capacity of the bed is high enough. But also take into consideration that a higher weight capacity usually means a better build quality.
Style: Will a horizontal or vertical Murphy Bed fit better in your room? And do you want one that comes included with a foldable mattress? Or do you want to choose your own mattress?
Assembly: The assembly can be easy or complicated, and sometimes you need more than one person to get the job done. So make sure you're comfortable with the assembly process.
Warranty: Some Murphy Beds have a very long warranty: 10 years is not uncommon. Some cheaper options have a warranty of just one year. With a shorter warranty, you have more risk.
Budget: Finally, Murphy Beds are more expensive than regular beds. And the size will also play a big factor in the cost. You should expect to pay at least $1000 for a cheaper Murphy Bed, but the cost can go up all the way to $4000.
Now that you know the most important things to look for when buying a Murphy Bed, let's get into our top 8 picks.
The Best Murphy Beds: Our Top 8 Picks 
Our top pick is the Zipcode Design Colquitt Murphy. Why is this our top pick? One word: Value. There are plenty of decent Murphy Beds in the $1750 range, but, in our eyes, there's not one that can beat the Zipcode Design Colquitt.
It's great because the build quality is superb, despite its relatively low price. And it's not too hard on the eyes, either. You can choose two different sizes(full and queen) and four different finishes. This means that, no matter how much space you have and how your interior looks, there's a Zipcode that will fit perfectly.
PROS
Best value option
Fantastic build quality
Stylish look
Many different options
---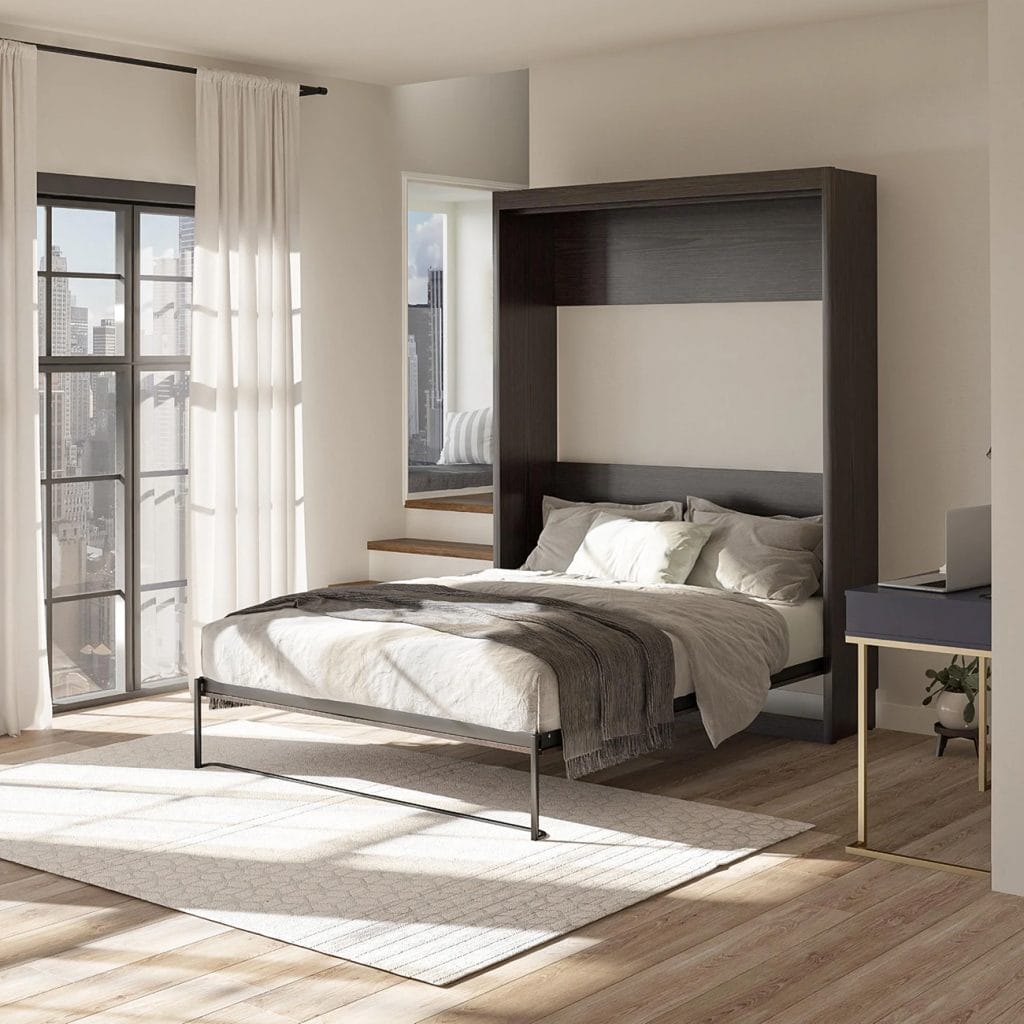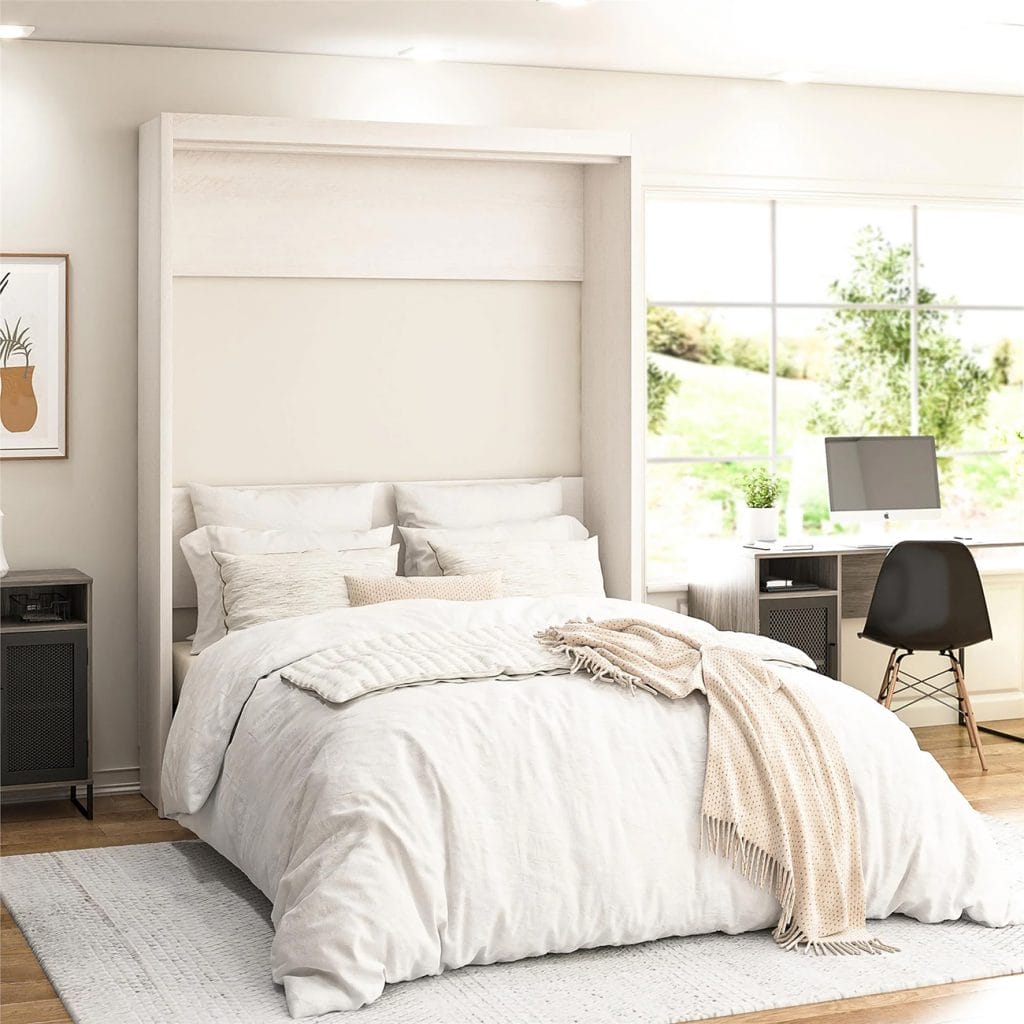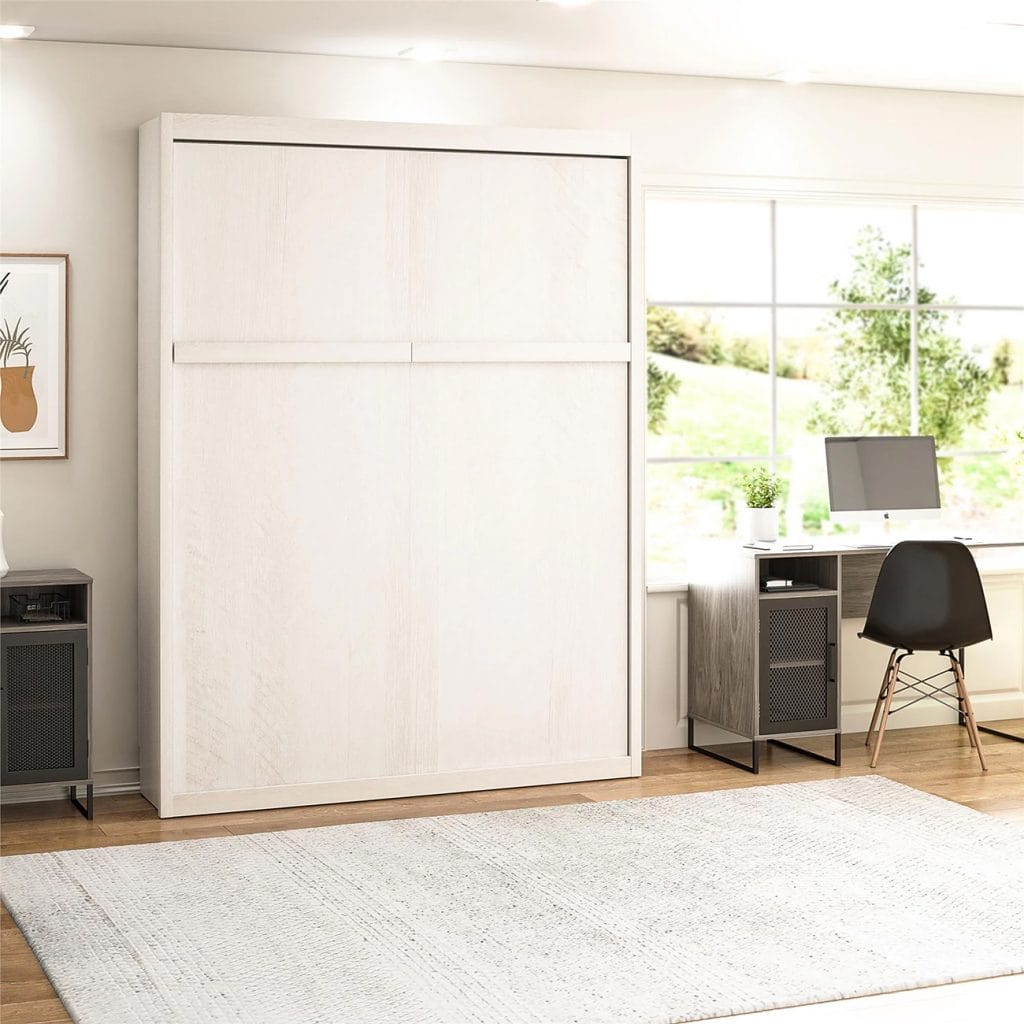 Let's be honest: Murphy Beds are often not the cheapest. So, you might be looking for a good budget option. The thing is, it's hard to find one that costs less than $1000. And at a low price, the build quality is not always great.
However, we can recommend one option without hesitation: The Full/Double Bed Murphy Bed. This stylish and durable bed has recently had its price cut in half, making it by far the best budget option. The only real downside is the short warranty period.
PROS
Unbeatable price
Build quality is good
Stylish look
---
A big part of the appeal of a Murphy Bed is, of course, the stylish look. And while there's no shortage of great-looking Murphy Beds, there's one that stole our hearts: The Invento Vertical Wall Bed.
Calling it classy is an understatement, and it's not just a bed: It's also a smartly designed 2-person closet. You have two sections on each side that contain three drawers, two storage cabinets, two shelves, and one tempered glass shelf on the top. This makes the bed a fantastic option for couples and a huge space saver.
What brings it to the next level, however, is that you don't have to press it down manually. You can do that with the click of a button. That's James Bond's level of coolness! One thing is certain: You're sure to make your friends jealous with this piece of art in your house.
PROS
Very stylish
A bed and closet
Saves a lot of space
Perfect for couples
Goes up and down with the press of a button
---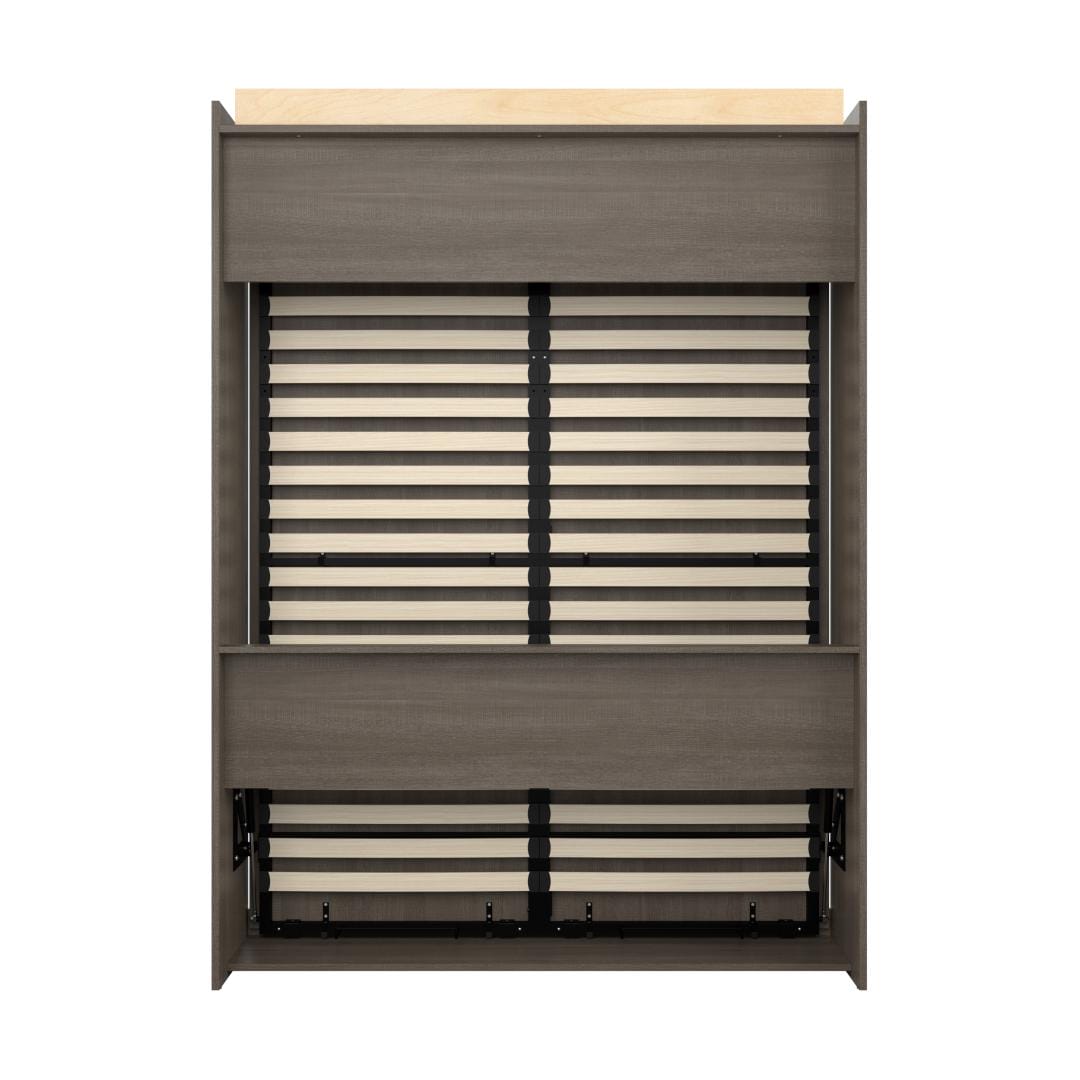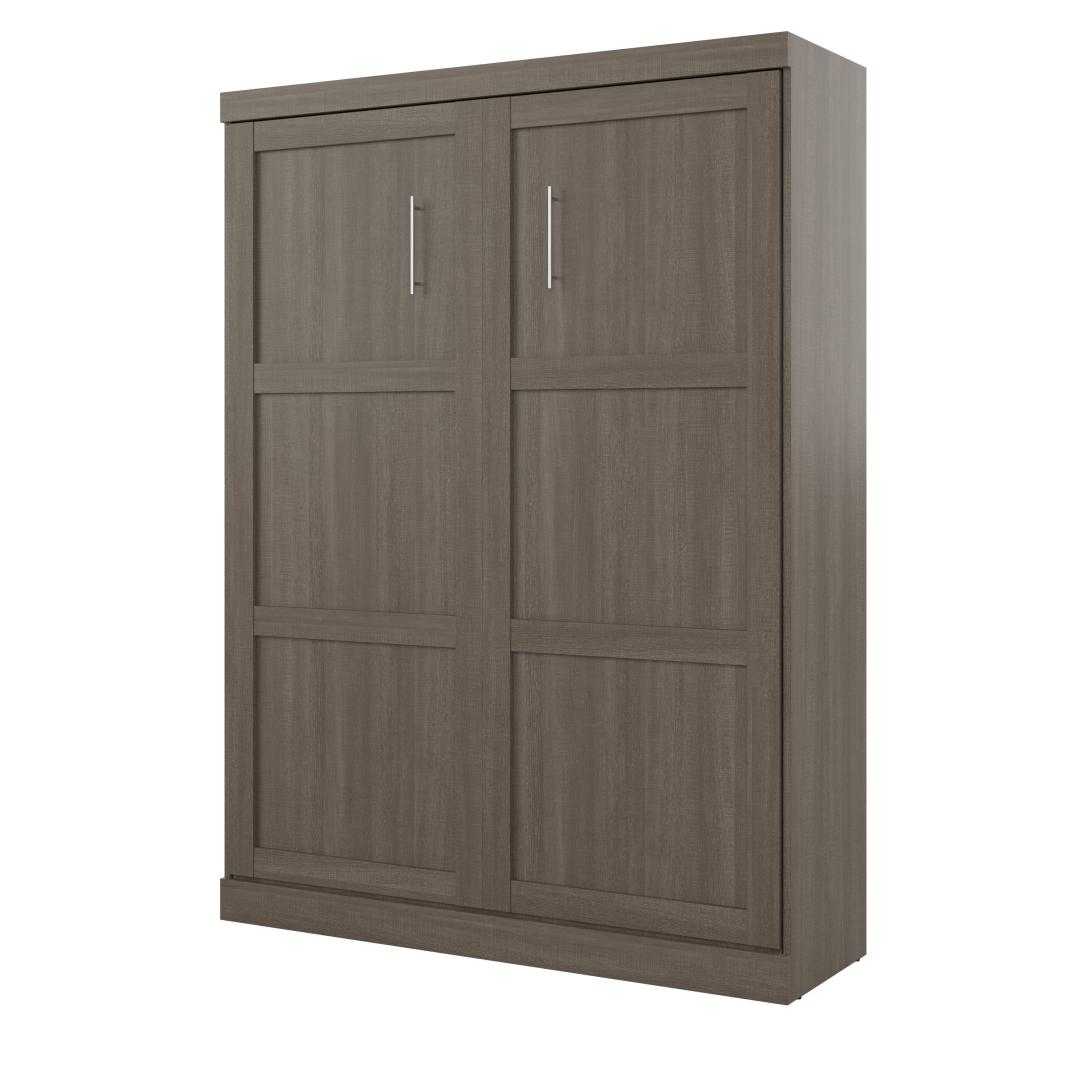 Investing in a good night's sleep is one of the smartest things you can do. And this is especially true if you're the type of person who has difficulties falling asleep. You will, without a doubt, sleep better on the Queen Murphy Bed. Why?
Well, the manufacturer Bestar has a stellar reputation for creating high-quality furniture. And they delivered once again with the Queen Murphy Bed. This is proven by the 4.6-star rating on Wayfair (out of 110 reviews).
What sets it apart is the Euoslat Mattress Foundation. This foundation, in combination with a quality mattress, makes you feel like you're floating on air. And thanks to the dual-piston system, it's easy to lift the bed no matter how strong you are.
When it's folded up, the bed looks like a stylish closet, which will look great in most bedrooms. And it doesn't take up much space, either. The bed has only one downside: A mattress doesn't come included, so you'll have to invest in one.
Just make sure you choose one that has the right weight and thickness.
PROS
Supreme comfort
Looks great
Easy to fold
CONS
The mattress is not included
Need two people for assembly
---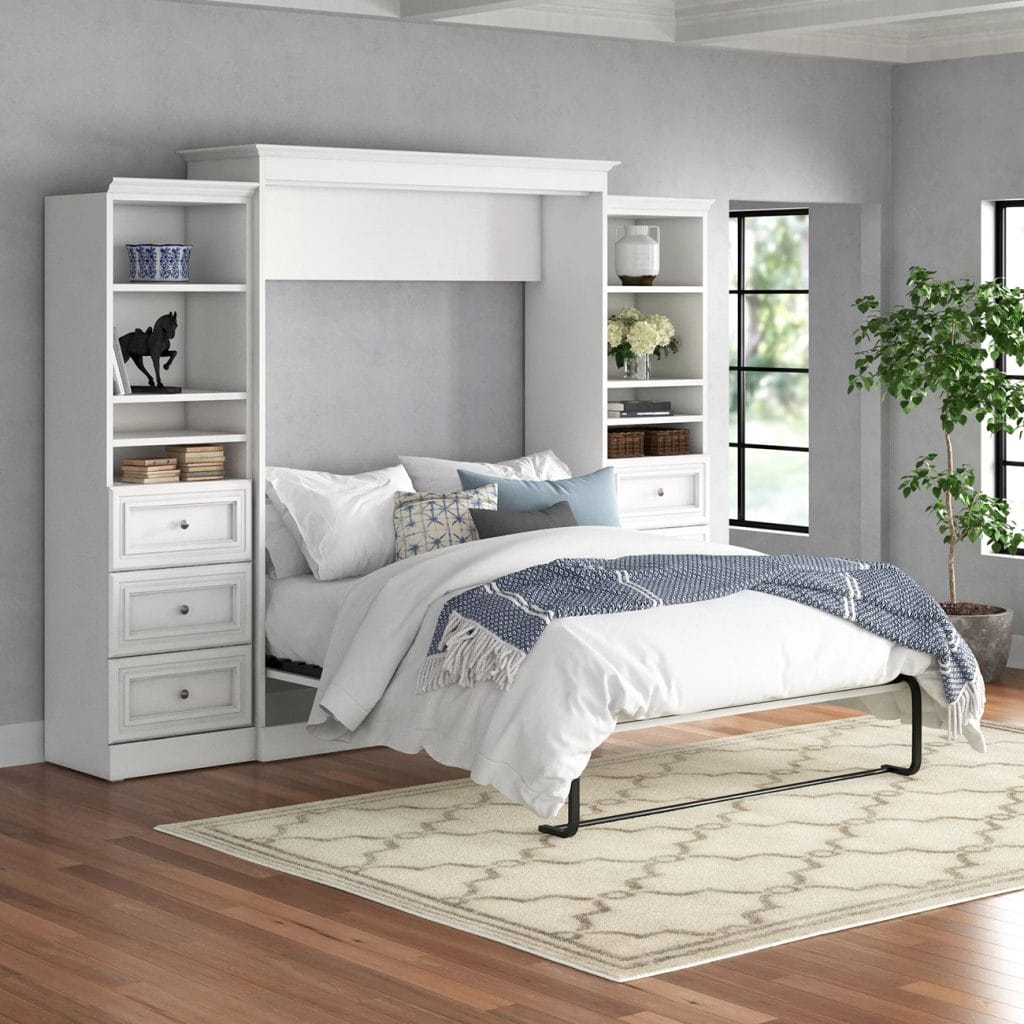 Do you want to save as much space as possible? Then the Bestar Queen Murphy Bed is probably your best choice. This super convenient bed is also a small-sized closet with three drawers and four shelve units, which saves you a ton of storage space.
It's also available in two sizes and colors, and it comes with a very long warranty period of 10 years. You'll have to make a substantial investment, though, as it's priced at around $3000. But this is still a deal for what you're getting.
PROS
Huge space saver
Good build quality
A bed and a closet
---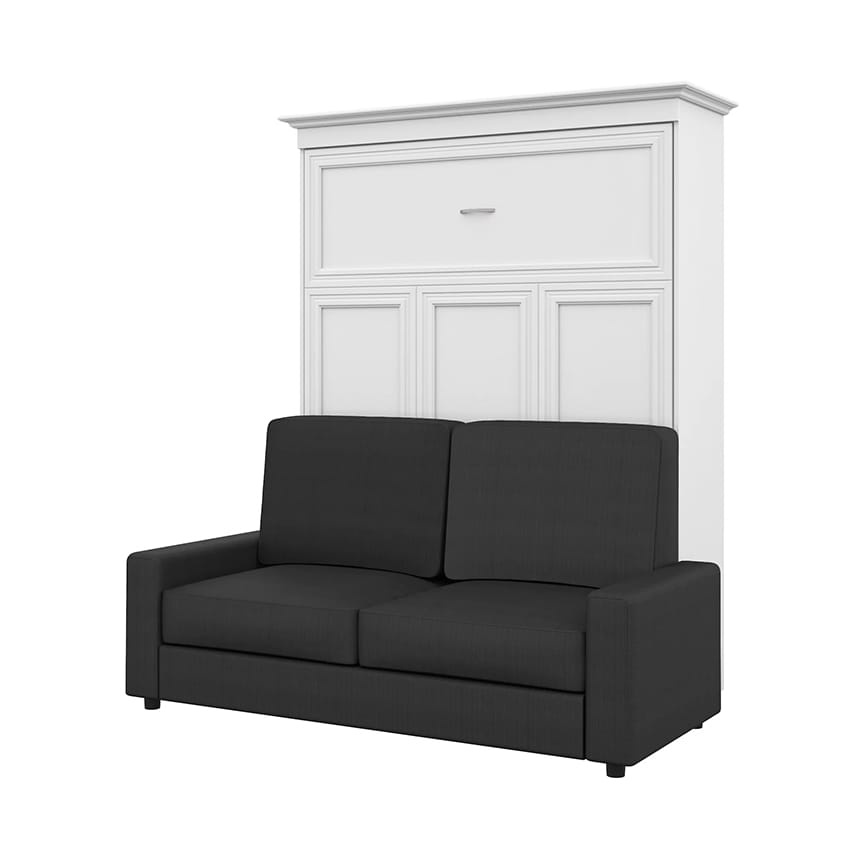 Not everyone has enough space in their bedroom for a bed and a couch. If that's what you think, you would be wrong because there are plenty of Murphy Beds that serve both purposes.
The big problem is, however, that most options are sorely lacking in one department; either the couch is not comfortable enough, or the bed doesn't feel quite right.
That's not the case with the Thane Murphy Bed! This hybrid between a bed and a couch is very comfortable and excels at both functions. And while it doesn't look as sleek as some other Murphy Beds, it's durable.
It does come with a bit of a price tag, though. But if you consider that it will save you the cost of also buying a couch, it's more than worth it.
PROS
A bed and a couch in one
Good built quality
Comfortable
CONS
Not the cheapest option
The mattress doesn't come included
Plain design
---
Depending on your room layout, you might be looking for a horizontal Murphy Bed. The benefit of this type is that it collapses less far into your room, so you save more space.
If that's the case, we highly recommend the Bristol Queen Low Profile Storage. What we love about it is that it's entirely constructed out of wood. This gives it a premium look without overcomplicating the design. It's also easy to fold up, so it's less of a hassle than some of the other options.
PROS
Excellent build quality (can hold up to 500 pounds)
Premium design
The foam mattress comes included
Comes with a built-in cabinet
CONS
Assembly takes more effort
Box spring does not come included
---
Some people say you shouldn't work from where you sleep. We disagree because that's not true for everyone. Plus, the Avalon Murphy Bed makes it more than possible to be productive and get some good night Zzzzz's, all from the same location.
You'll quickly notice that the build quality is excellent: The unique piece of furniture is made from solid wood and veneer. But there's something else that stands out: The plain white design. This is something you're either going to love or hate. And depending on the interior of your bedroom, it will either look great or out of place.
In our opinion, it's the best desk bed out there.
PROS
Good build quality
A desk/bed
Mattress is included
Easy assemble
Outspoken design
CONS
Pricey
Only available in the color White
Outspoken design