If you want a Murphy Bed but have very specific wishes and requirements, getting it custom-made is probably your best option. But what are the benefits and downsides of having it custom-made? And what are some of the best places to have this done? You can read about that and more in this article.
Note: check out the latest Black Friday deals and see if you can grab a saving on a Murphy Bed this year, click here to view the best deals right now.
The benefits of a Custom made Murphy Bed
Buying a custom-made Murphy bed comes with many benefits. Some of these benefits might be obvious, but there are also some less obvious benefits you might have yet to consider.
Perfectly suits your interior: This is the most obvious benefit: You can perfectly match a custom-made Murphy Beds with your interior, so everything in your bedroom/guestroom looks great together.
Perfectly fits your room layout: Some bedrooms have a very specific layout; one that requires your Murphy Bed to have a very specific dimension. With a custom-made Murphy Bed, you can adjust the size and shape to fit your room layout.
Implement your own design ideas: Are you a picky person? And do you have very specific ideas about how your Murphy should look like? You can implement your own design ideas in a custom-made Murphy Bed.
Get a unique piece of furniture: Your furniture can say something about you, just like the clothes you wear. It's an opportunity to express your personality. So why not get something that's uniquely you?
Durability: Durability is a benefit only a few people consider: A custom job will usually be done by an artisan who is passionate about his craft and, more often than not, will only use high-quality materials. The result is higher durability and less chance of product defects.
Support local businesses: Lastly, by getting your Murphy Bed custom-made guarantees, you're supporting local businesses. This is not always the case with standard sizes, as part of the production process can be outsourced to cheaper countries.
The downsides of a Custom made Murphy Bed
As you can see, a custom-made Murphy Bed has plenty of benefits. But there are also two downsides you have to take into consideration.
The cost: This is the most obvious downside: Cost. Your murphy bed will be more expensive because customizing it takes time and effort. How much more expensive will depend on how much customization needs to be done. But it will also depend on what company you hire.
Waiting time: Due to the extra work, there's also a good chance of a long waiting time. But that doesn't always have to be the case. Sometimes, the delivery time on a (popular) standard Murphy Bed can also be long, and it will also depend on the company.
What are the best places to buy a custom-made Murphy Bed?
There's no shortage of great furniture stores where you can get a custom-made Murphy Bed. But there are a couple of places we personally recommend. Each of these places are known for its excellent reputation, great service and price, and they deliver nationwide.
| Image | Retailer | Visit Retailer |
| --- | --- | --- |
| | | |
| | | |
| | | |
| | | |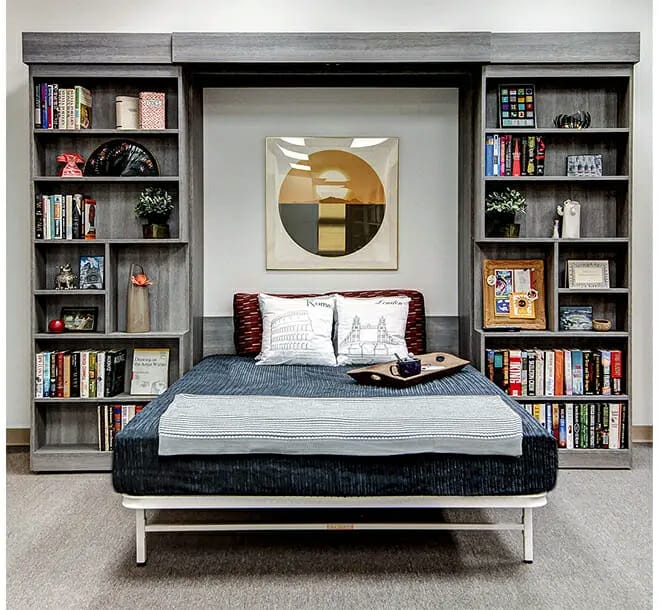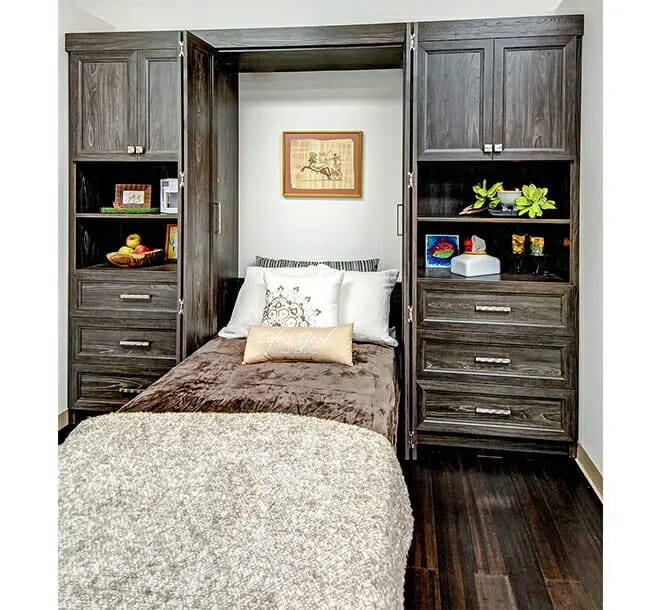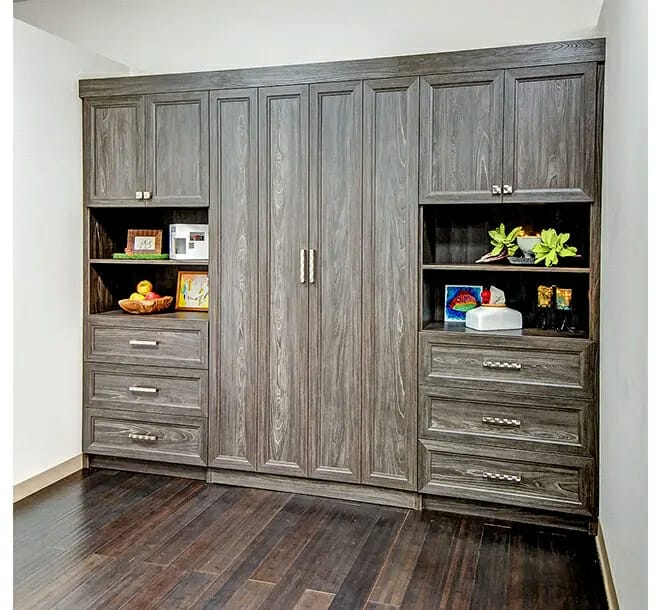 The Closet Work Inc is known for creating excellent Murphy Beds that fit any room. You can choose between two types of bed:
The Next Bed: Made with a tubular steel constructed frame.
The Alpha Bed: Made with a heavy-duty steel frame, which sits on a wood panel.
The frame and mechanism have a 2000-pound load capacity. Sizes go up all the way to a king-size. And you have plenty of customization options:
Accessories: Choose from different drawer inserts, baskets, valet bars, tie & belt racks, hooks, utility rocks, accessory molding, and other specialized accessories.
Color Palette: Choose from 90 colors to get the exact finish and texture you want.
Decorative Hardware: Choose from a wide variety of pulls and knobs.
Door and Drawer Front Styles Choose from different types of doors and drawers.
---
WallbedsUSA is a company that has been custom-making Murphy Beds for over 30 years. A testament to the quality and service they provide. Where the company really shines is the excellent price/quality ratio: They don't use any cheap materials and still manage to offer their beds at a great price point.
You will find a tool on their website that allows you to design your own Murphy Bed. And you have plenty of customization options: mattress size, wood material, cabinetry, finish, accessories, hardware, adjustable shelves, lighting, and even a nightstand.
You will have to install the bed yourself unless you live in a certain ratio of the manufacturer. But they will provide you with proper guidance on how to install it. All their Murphy Beds also come with a lifetime warranty on spring-operated mechanisms and a multi-year warranty on Piston mechanisms.
---
Another great option is Murphy Wall Beds; a company that has been in business for over 45 years and has sold over 150,000 Murphy Beds. Which, according to them, makes them the #1 supplier of Murphy Beds in North America.
While it's hard to verify that (we don't have the sales numbers of other sellers), one thing is certain: Their options will satisfy even the pickiest buyers. You have 12 different types of Murphy Beds to choose from, each of which come with plenty of customization options:
Orientation: Choose from Vertical or Horizontal
Leg height: Regular and extended
Frame: Supreme Steel & Elite ALuminum
Size: SGL/TWIN, SGL/TWIN X-LONG DBL/FULL DBL/FULL X-long (king-size beds are not available)
All the beds also come with a patented leg system that is strong enough to support a weight of up to 2,000 lbs. Delivery is quite fast: 2 – 4 weeks. There's a 25-year warranty on hardware. And the prices range from $31140 to $5178,75.
---
The Modbarn, a family-owned store in Los Angeles, specializes in creating custom-made furniture that fits into any space. They offer three different types of Murphy Beds: Wall Beds, Office Combo, and Sofa Combo. And they have a simple 3-step design process:
Design: Send in your idea
Build: Your idea is built
Install: A date will be scheduled to install the Murphy Bed.
The bed can be made in any style, and they offer plenty of customization options. So the only real limitation to the design is your imagination.
---
The last company on the list is Custom Made. Many people know Custom Made for making wedding rings, but they also make Murphy Beds. In fact, you have 40 different beds to choose from. You can customize your order by giving details about the size, finish, and more. Or you can send in your own design idea.
There are plenty of traditional and modern Murphy Beds to choose from. And the prices range from $800 – $16,500, so there's something for you regardless of your budget.
---
Your local furniture store
All of the companies listed above are great options. But you might also want to look for local furniture stores in your area. What's great about this option is you can talk eye-to-eye with the seller. This will make it easier to discuss your design ideas and get a feel for the company you're doing business with.